Live Lean – Grass-fed Meat, Fresh Fish & Paleo Products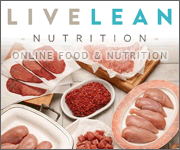 LiveLean is a premium online butcher supplying a wide range of high quality lean meats, poultry, game and exotic meats, delivered from the farm to your door
About Live Lean
It all started a while back when two Pauls – Paul H & Paul M – sat down together and decided to combine their passions for great quality food and healthy living and create something which could benefit everyone……
They set out to find a butcher who could match their high standards and supply the very best of British produce. Not only did the meat have to pass the taste test but it also had to be sourced from the highest welfare farms where the animals enjoyed a free and natural life.
After getting some lovely boxes made and a friendly courier service on board… LiveLean was born and they started shipping fresh meat all across the U.K.
Live Lean offer excellent quality fresh meat, and friendly and prompt service. They have recently expanded the LiveLean product range and now offer a wide choice of the best and most nutritious products available from around the globe, including: Fresh Fish, Superfoods, Coconut Products and Supplements.
Live Lean set very high standards across their entire product range and try to be as transparent as possible so you know you are getting the best for your money.